I was psyched when I found a -- no, the -- dress for my wedding -- ivory, lace, train, the works. But apparently one dress is not good enough for a Chinese wedding. My mom (in the voice reserved for things of monumental importance) demands at least 3 dresses: a "western" bridal gown, a Chinese qua or qipao, and an evening gown. Apparently ("There are rules! Rules!") not only does custom dictate how many dresses one must change into (some brides go for as many as 7!), it also dictates when one must change into these getups, as well as what type of jewelry goes with each outfit. There goes my dream of sashaying about in my Monique Lhuillier all night. I'm going to spend all night changing from one outfit to another.  
[What Hong Kong looks like from a cab after a loooong day of wedding shopping.]
Oh well.  No use whining when one could be out shopping.  So this week, Hot Mama Cocoa, Sister HC, and I have been hitting the very hot pavement in Hong Kong in search of my Chinese outfit. 

The first choice I had to make is whether to go with a
qua
 or a
qipao
 for the tea ceremony
.  The
qua
 is a two-piece wedding costume that is ancient in provenance.  Here's a neat little explanation from
Koon Nam Wah
, Hong Kong's most established
qua
 maker:
There are two types of traditional ceremonial costumes: . . . long gowns and short jackets . . . for men, and [

qua

] for women. In the past, people of the middle and upper class often wore these traditional costumes for birthday banquets or on other grand occasions. In recent decades, however, [

qua

] embroidered with the dragon-and-phoenix pattern has been the ceremonial costume for brides. . . . The wedding costumes are usually embroidered with auspicious patterns such as the dragon and phoenix, mandarin ducks or flowers and plants. Traditional [

qua

] have two decorative sashes embroidered at the centre of the lapel. These bands are called zisundai ("offspring" bands), which means "having an abundance of offspring."
It looks something like this:
In recent years, brides have opted for something a little more body-conscious, less boxy, more vavavavoom.  Hence, the
qipao
 (sometimes called
cheongsam
).*  Here is a conventional version of the
qipao
, red with the dragon/phoenix embroidery:
* Some people also explain the choice between
qua
s and
qipao
s as a regional one; northern Chinese brides wear one-piece dresses, while southern ones wear the two-piece
qua
. Neither I nor my family had heard of this difference before I sought wisdom from Auntie Google, but Auntie Google doesn't lie (or so my students claim).
At first, I thought the choice between a
qipao
 and a
qua
 was a no-brainer. Look, baby's got back.  And it does not look good in a boxy, straight skirt.  I mean, who wants to look like an embroidered potato sack?  And even Hot Grandmama Cocoa was certain that
qua
s were dated, the equivalent of wearing a "rad" hypercolor t-shirt with Z Cavaricci jeans to the opening of NY Fashion Week.
But then I went to look at
qua
s in person at the
Wing Wah Embroidery Co.
and was floored by the amazing embroidery:
As you can see, the embroidery is lush, artful, and three-dimensional. Here is a particularly fine specimen of a well-embroidered
qua
; the silver embroidery almost covers all of the red satin underlay, and the gold dragons and phoenixes literally pop off the material
:
And here is darling
Mrs. Toucan
, looking gorgeous in hers:
The prospect of wearing an art piece alone probably would have swung me over to the
qua
 side. But then I visited 
Koon Nam Wah
's website and read all about the
xi fu
 (masters) who create KNW's embroidered pieces.  The 
xi fu
have to do some pretty fine embroidery work, so it's no surprise that KNW selects only those with skill and dexterity.  But that's not all.  You see, sweat can damage the embroidery and material.  So KNW selects only
xi fu
 who don't sweat.  Yeah, you read that right.  Only those with the ability to suppress their glandular secretions need apply.
Beautiful embroidery?  Nice.  Beautiful embroidery done by little old men with no sweat glands? Awesome.  I must have it.  Plus the curmudgeonly
xi fu
 I spoke with at KNW said he could make me a more modern
qua
, with a scalloped edge on the bottom of the jacket and a slightly more fitted shape.  Sold.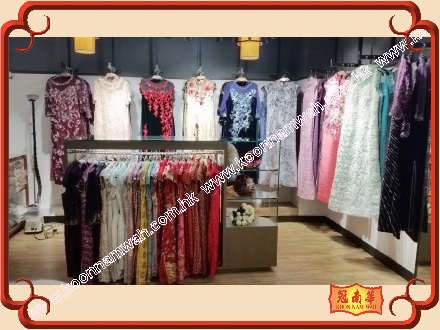 As for the
qipao
, well, I'm not giving that up either.  I have a scheme to reinterpret the classic
qipao
 to make it work as fusion formal wear.  More on that to come.
In the meantime, tell me . . . have you made any wedding attire decisions that surprised you?